Why is this document among the offical
records of the Vincent Foster death investigation?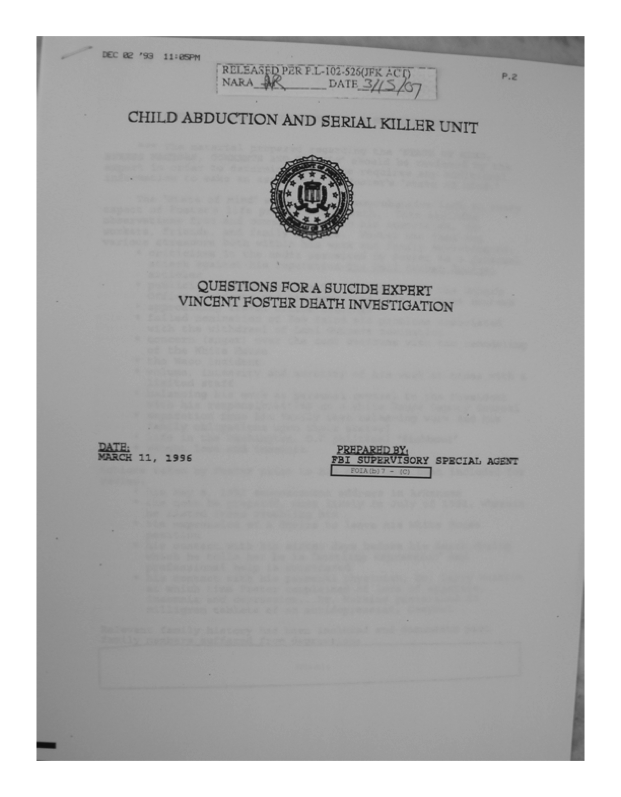 The document above was found at the National Archives among Office of Independent Counsel records concerning the Vincent Foster death investigation.
James Clemente on Russia Today (RT) News in January, 2015, discussed convicted pedophile Jeffrey Epstein.
The later convicted pedophile "Epstein had assembled a world-class legal team, including Alan Dershowitz, Kenneth Starr..." reported The Daily Beast.
For further reading
Lawyers: Victims Not Told of 'Sweetheart Deal' for Jeffrey Epstein NBC News.
Sex offender Jeffrey Epstein's immunity deal with feds documented Palm Beach Daily News
The Observer , The Jeffrey Epstein Affair Imperils HIllary Clinton's Presidential Prospects
Alan Dershowitz moves to sue lawyers representing alleged teen 'sex slave' for defamation, but they sue him first NY Daily News
Christopher Ruddy announces Newsmax deal with Dershowitz for Newsmax
Ken Starr Got Billionaire Pedophile Off Daily Beast
Christopher Ruddy Defends Sexual Predator Bill Clinton - Newsmax
Coulter Lambasts Media Over Epstein Rape Case
Go home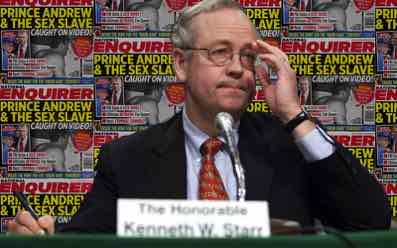 Baylor University removed Kenneth Starr from his position as President, after a scathing report that found that, under Starr's leadership, Baylor had whitewashed serious allegations of rape by athletes.  Starr, who had sided with football coach Art Briles, later left Baylor altogether.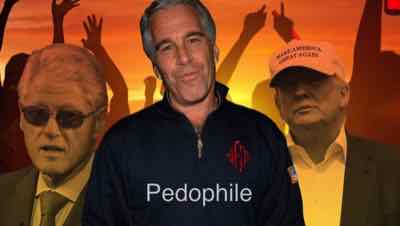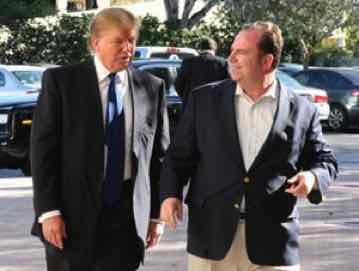 Donald Trump with Newsmax CEO, Chris Ruddy, the false critic of the Clintons. Ruddy is a member of Trump's opulent Palm Beach club, Mar-a-Lago, that has been linked to billionaire pedophile Epstein and rape allegations.
Ruddy was part of the Vince Foster cover-up and the false narrative that Foster's car was at Fort Marcy Park.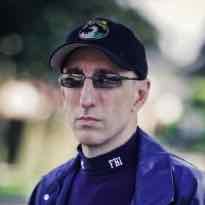 FBI Agent Jim Clemente was assigned to the Vincent Foster death investigation in Kenneth Starr's Office of Independent Counsel.
Jim Clemente's official website states: "For over a decade he was an FBI Profiler investigating serial violent and sexual crimes. He is an internationally recognized expert in the fields of Child Sexual Victimization, Sexual Homicide, and Child Abduction."
Why was Jim Clemente assigned to the Foster investigation?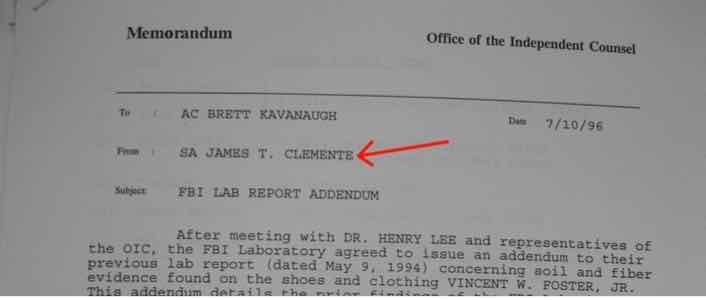 This internal memo from Special Agent Jim Clemente to Associate Independent Counsel Brett Kavanaugh regards the Vincent Foster death investigation. Kavanaugh is now a federal judge on the US Court of Appeals for the DC Circuit. He has been touted by some in the media as being an "outstanding" candidate to be appointed to the Supreme Court.
David Brock participated in the cover-up of the murder of Vince Foster, authoring stories that Foster committed suicide. Brock also attacked Patrick Knowlton, a crucial grand jury witness, calling him "a self-discrediting witness." Knowlton was at Fort Marcy Park the day Vince Foster was murdered and he testified that Foster's car was not at the park. Knowlton suffered witness intimidation, after being subpoenaed to testify before Ken Starr's Whitewater grand jury.
Three judges on the US Court of Appeals ordered Knowlton's comments to be included in the report on the death of Vincent Foster, over the objection of Independent Counsel Kenneth Starr.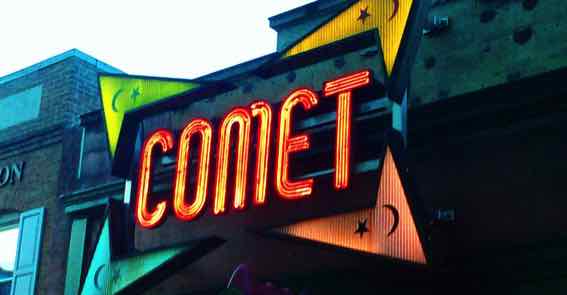 David Brock and James Alefantis
David Brock's former boyfriend James Alefantis is the owner of Comet Ping Pong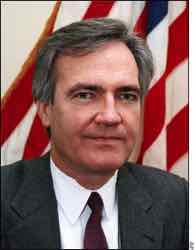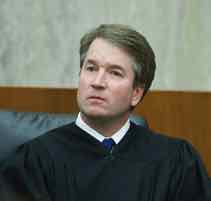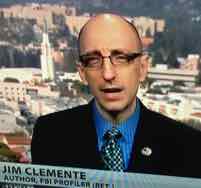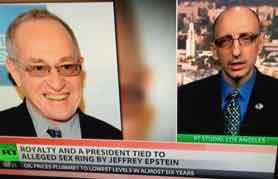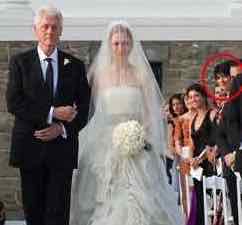 Ghislaine Maxwell attended Chelsea Clinton's wedding.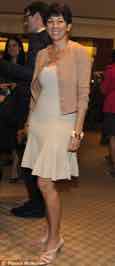 Ghislaine Maxwell, daughter of the late mysterious media mogul, Robert Maxwell, recruited 15 year-old Virginia Roberts to work as Epstein's "masseuse," according to Roberts.
After she was interviewed in a bizarre fashion by a naked Epstein, she was told by Ghislaine to follow her instructions. The Daily Mirror